IndustryForum Automotive 2021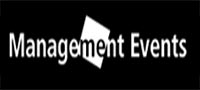 IndustryForum Automotive 2021 is a conference of Management Events become extremely digital, but Management Events leverages the best of both the physical and virtual worlds to help leaders find the best possible partners for their projects.
Our mission is to bring together decision-makers and solution providers in online and live events to expand their network, gain insights, and discover new business solutions and opportunities. Our events are designed as the ground base for great deals and sizable contracts while tailored to keep the economic engine going, even through tumultuous times.

Management Events was established in 1994 as Mr. Olli Muurainen, a young and restless man born deep in the woods of Finland, decided that one day his company would be the best in the business of exclusive face-to-face meetings. In this sparsely populated country, meeting someone has always been a very special occasion.

"Trust is the foundation of Finnish society", says Mr. Muurainen. "But yes, it's amazing to see what a universal value it has. The power of face to face. I see it happen every day, all over the world. Digital browsing is great, but a live meeting with someone is something much more treasured."

Today Management Events Ltd has operations in 13 countries, ranging from Sweden to Singapore, and headquarters in Helsinki, Finland. Our talented teams (our stars, says Muurainen) host yearly more than 180 events for invited executive guests and solution providers. Thousands of discussions, new partnerships, deals and contracts will be started there.
Event Properties
| | |
| --- | --- |
| Event Date | 01 Dec 2021 |
| Event End Date | 02 Dec 2021 |
| Name of the Organizer: | Management Events |
| Person of Contact | |
| Location | Baden Baden, Germany |