Automotive Events & Exhibitions
Events
section of
Global Automotive Technology
is the leading reference guide for all
upcoming, current Automotive events, automotive conferences and auto part exhibitions
. This listings are with brief details like
date
,
venue
and
registration link/website
of
Automotive conferences, Automobile Tradeshow /Auto Parts Expos and summits, Events
along with the name of organizers who conducts
automotive events.
Want to list your event?
Post Your Event
— Or For any customized packages, reach Media Manager,
AnneFrank
17 Sep 2019 - 18 Sep 2019
| Organizer:

HEA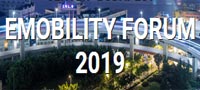 Stakeholders of the emobility industry are looking at the trends and the actions of the EU and the governments with high expectations.
28 Oct 2019 - 29 Oct 2019
| Organizer:

ORTRA Meetings
22 Jan 2020 - 24 Jan 2020
| Organizer:

ICM AG