19th International Electronics Recycling Congress 2020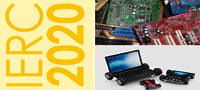 IERC 2020 is the electronics recycling industry's leading event, bringing together more than 500 recycling professionals from around the globe: recyclers, technology and equipment providers, associations, NGOs, regulators, standardisation bodies and many more.
The experts will discuss the latest recycling technologies, regulations, manufacturing processes and value of raw materials. The congress will focus on:
Impacts of E-mobility on the recycling industry
Do electric cars and bikes end up as electronic scrap?
What are the opportunities of the Circular Economy for your businesses?
Worldwide take-back schemes, quotas and challenges faced by OEM
Country reports
Business opportunities and models in emerging markets
Innovations in printed circuit board recycling
Best available recycling technologies
Safety standards for transportation and storage
Environmental management of hazardous components such as lithium batteries
Standards, compliance and regulations in the electronics sector
Are free riders still an issue?
Impacts of data security on reuse & refurbishment
Trading of used electric and electronic parts – good or bad?
Plastics recycling: "The long way from hell to success!"
Round Table: "Update on the impacts of China's import restrictions"
The program also includes a powerful guest speaker, keynote speakers, tech talks and a round table.
A large exhibition area with over 80 booths provides the perfect opportunity to reach key industry decision makers and to find out what's new in the global electronics recycling business. Cocktail receptions and a networking dinner create an excellent atmosphere to get in touch with business partners, friends and competitors.
Furthermore, the congress will offer interesting plant tours and workshops.
Join us in Salzburg at this unique recycling congress!
Event Properties
| | |
| --- | --- |
| Event Date | 22 Jan 2020 |
| Event End Date | 24 Jan 2020 |
| Registration Start Date | 07 Jun 2019 |
| Name of the Organizer: | ICM AG |
| Person of Contact | Susann |
| Location | Salzburg, Austria |